---
As if weekly maintenance wasn't enough, there are still some procedures that you should go through twice per month to ensure your sequencer's health. When it comes to bi-monthly maintenance, start by checking the polymer. The most common question we hear at SeqGen is "How often should I change the polymer on my machine?"
Generally speaking, the lifespan of fresh polymer is about two to three weeks depending on the environment and how many runs your lab performs. Using polymer any longer will cause you to risk poor data quality and errors with the electrophoresis current. To make sure your runs are always perfect, we recommend installing new polymer every two weeks. It's time to fire up that "Replenish Polymer Wizard" and get ready for more runs.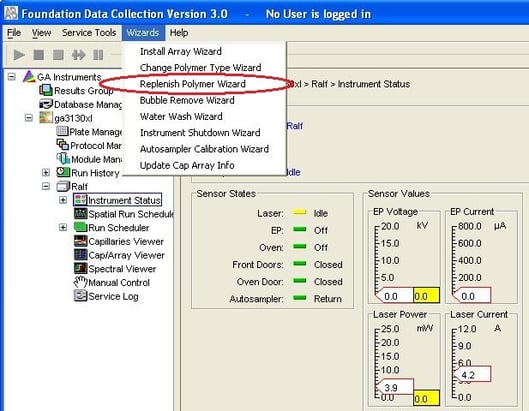 When you have the new polymer installed, make sure you've replaced everything the right way. Run a Spatial Calibration with Fill to check the optical performance each time you use a new batch of polymer. You may notice that some bubbles have formed in the pump or tubes after you complete this process, but this is normal. Simply run a Bubble Remove Wizard and you shouldn't have to worry about those anymore.
For more tips and tricks on keeping your sequencer running like new, download our complete 3130/xl and 3730/xl maintenance guide. This step-by-step guide will walk you through the maintenance procedures you should be doing on a regular basis in order to keep your machine in pristine condition. Get your copy today and extend the life of your machine for years to come.
---