---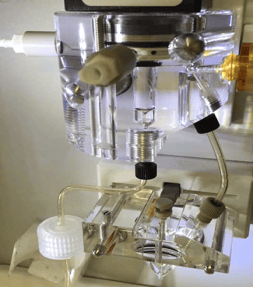 When we last left our troubled ABI 3730 user a week ago, she was suffering from blue background haze and had tried SeqGen's previously mentioned tips to no avail. At this point we look for other reasons for the blue haze in her results.
As you may remember, the buffer, or in most cases the buffer make-up water, can cause a blue haze in your electropherograms. If you're having this problem, you need to check and see if there is any leak in the system.This is to make sure the buffer is not getting pulled into the pump piston and accidently passing into the capillary.
---
1). Check the Lower Block
Make sure that you do not have any polymer or buffer water leaking from the lower block or the one-way check valve. If this is happening, your machine should give you a "leak detected" error, but in some cases you'll have to do a little more digging.
In order to check the leak from the lower block, it is helpful to remove the buffer jar (using a Kimwipe to dry the lower block) and run a spatial with fill. While the piston is pushing down filling polymer into the capillary, inspect the lower block to see if there is any polymer leaking or dripping down from the lower block.


2). Move on to the One-Way Check Valve
If that still didn't do the trick, you'll have to turn your attention to the one-way check valve and perform a similar procedure. This time, remove the polymer bottle and use a Kimwipe to dry the polymer tube. Again, you'll want to run a spatial with fill, and as the pump starts filling the array, watch the end of the tube to see if there is any polymer back-flowing. If you witness the polymer back flowing at the end of the tube, you have found the source.


3). Wash Your Pump
Perform a pump warm water wash and this might clear any dried polymer in the one-way check valve.
While we haven't found any direct evidence or case studies linking leaks to a blue background haze, these steps are provided as reference tips to help troubleshoot. If you still are unable to get rid of the haze, it's time to contact SeqGen to have a more in-depth look into the issue.
At SeqGen, we are more than happy to answer any questions you may have regarding your machines. To help you keep your machine in tip-top shape, we're giving away our free Array Wash Procedure. This is your guide to extending the life of your capillary array. Get your copy now!
---