I guess I would not be thorough if I did not include a few words about 10x dilution buffer to go along with our polymer and array discussions of late. Some of this information may surprise you!
Is it possible for something to be "too pure"? When it comes to buffer dilution water, the answer is resoundingly "yes"! We recently had a problem with a customer trying to use reagent grade deionized water to prepare their 10X buffer. It turns out that you do need a few ions floating around in your water for the buffer to perform properly. We had to advise this customer to put aside their expensive lab grade water and run out to their local CVS! Yes – that is right. The distilled water from your local pharmacy or grocery store works best for preparing 10x buffer! Make sure the bottle says, "Distilled". I think the last time I looked, you could purchase a gallon for somewhere around $1.19. This sure beats $50 for laboratory grade water or thousands of dollars for a laboratory water prep station!
One more thing you should consider with summer looming in our not-to-distant future – evaporation. We suggest that you change out your buffer twice a week, even if your lab temperature is stable. Even a slight loss of dilution water can change the concentration of the buffer enough to affect your results. You should also change the buffer if you notice any crystallization around the side of the buffer tray.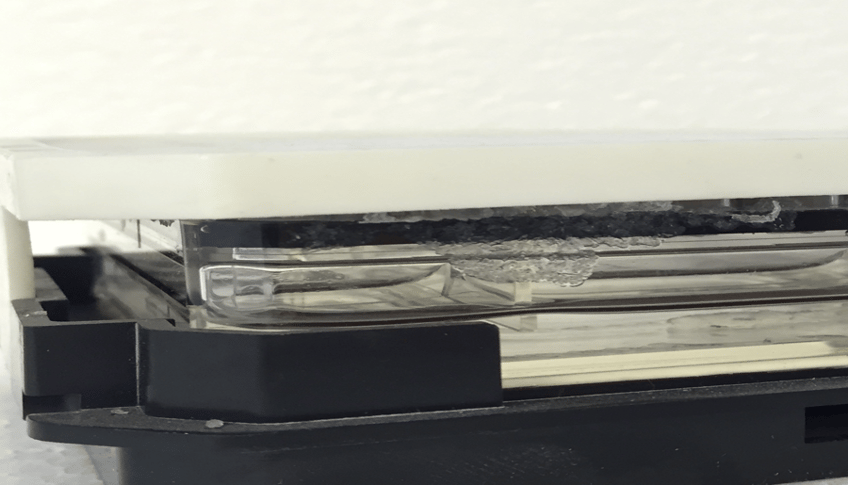 Another word of caution – do NOT overfill your buffer. Take a look at the result of a buffer spill during a run that actually resulted in a fire!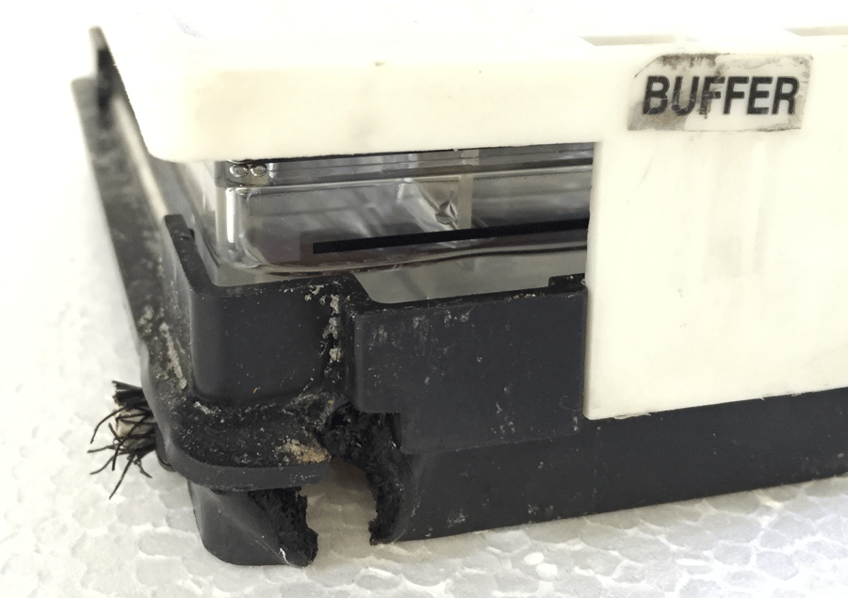 To wrap things up this week, I'd like to comment on alternate sources for your 10X buffer. We at SeqGen prefer the 10x buffer supplied by The Gel Company. This buffer may be used with the Life Tech polymer, but NOT the McLab polymer. If you are considering using the McLab polymer, you must also purchase their 10x buffer. We've definitely seen some interesting results when these protocols are not followed.
As always, we welcome your input and love to help, so please feel free give us a call or shoot over an email if you have any further questions or comments.