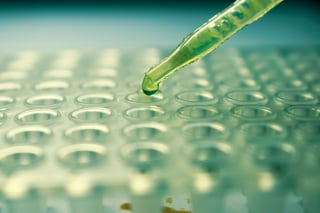 Many of our users have found that when using water for injections instead of Hi-Di formamide, they end up with issues that prevent base calling, even when following the machine standards. Proper technique should produce signal strengths well above the minimum threshold when samples are resuspended in formamide.
However, if you are still having issues with signal strength, you can try resuspending your samples in water, since this can increase signal strength by over 10x. If you do try employing water for injections, make sure you're cautious of these three things:

Mineral Oil Prevents Sample Oxidation and Evaporation
If you're going to re suspend your samples in water, we recommend that you overlay your samples with mineral oil to prevent sample oxidation and evaporation. The oil will also prevent your samples from degrading substantially after being resuspended, and sequenced DNA with the overlay is nearly as stable in water as it is in Hi-Di formamide. If you want to go even a step further, freezing your resuspended samples until you run them on your machine may help limit degradation.
Minimize Likelihood of Evaporation
If you choose to resuspend your samples in water without the oil overlay, we suggest that you do so in more than 20-µl of water to lower the chances that evaporation will reduce sample volumes. If your sample volumes drop below the minimum required for the capillary array pins to make good contact with samples, this will surely lead to failed injections.
Although ABI says the minimum volume is 7-µl, a slight tilt to the autosampler can mean that this is not enough for some wells. To be safe, it's better to operate with a minimum of closer to 10-µl. You should not assume that covering samples with the septa mat will solve this problem, as water easily evaporates through this, even when inside the sequencer.
Check Your Templates
One major purpose of resuspending samples in formamide is to keep the DNA in a denatured state. We haven't noticed any problems with using water instead of formamide, but there is a chance resuspending in water might be an inappropriate option if your templates are capable of forming substantial secondary structure. It should also be noted that if you're considering water resuspension, be advised that an excessively strong signal reduces read length.
For more tips and tricks on getting the most out of your sequencer and reagents, check out our 3130/XL and 3730/XL maintenance guide. This is your step-by-step guide to making sure your machine is ready to run for years to come. Get your copy today, and get your lab to peak efficiency.