---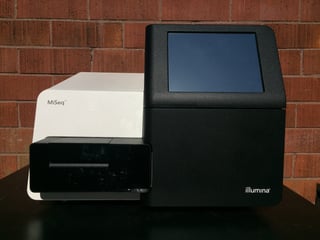 Everyone knows how truly incredible Next-Generation Sequencing is. From its unparalleled speed and throughput, to the reduced manpower and cost it takes to perform, there's never been a better way to sequence a genome.
For many labs, offering Next-Generation Sequencing is an absolute necessity, while others have experienced the growing need to provide NGS technology because of the numerous advantages. From research to forensics and everything in between, chances are your lab can benefit from NGS.
---
But before you make your purchase, you're going to want to consider a few factors to make sure you get the right equipment for your lab. We can help you with the appropriate recommendation, supply a refurbished HiSeq or MiSeq that doesn't blow your laboratory budget, and then follow up with our world class service and technical support.
What Will You Need Your Next-Gen Sequencer to do?




Obviously, this is the first thing you'll want to consider before making a decision on an instrument. Will you need a machine that provides high throughput per run? What about an instrument that provides longer read lengths? Do you need paired-end sequencing?
You'll want to consider your current lab functions of course, but also think about future applications you may need down the road. You're making an investment in your lab when you purchase one of these sequencers, so you'll want to be sure your lab doesn't outgrow it in a few short years.
Adding NGS to Your Bag of Tricks (Without Blowing Your Budget)

In your research you might have noticed that while these machines come with a lot of added capabilities, this will translate into a hefty price tag. You do have an affordable option available; SeqGen can provide you with a refurbished Next-Gen Sequencer. These instruments run exactly like a brand new one, but at a greatly reduced acquisition cost. If you are looking to add NGS on a tight budget, a refurbished sequencer is your best option.
Don't Forget the Service

As with any sequencer, you don't want to buy the instrument without a coverage plan. Sure, if you purchased new from the manufacturer they would throw in warranty coverage for the first year, but what about after? Once the first year, it's all up to you to purchase the additional coverage, and not all their plans include a preventative maintenance. After spending all that money adding the instrument, it's crucial to make sure your machine is running at peak efficiency. If you are looking for a cost-effective and reliable solution, SeqGen's got you covered. Our field service reports support all laboratory compliance and regulatory requirements and our field service engineers ensure your sequencer always runs like it is brand new.
It can be a difficult decision when purchasing NGS technology, but we're here to guide you every step of the way. If you have any questions about the NGS offerings available, or if you just want to see if NGS is right for your lab, feel free to drop us a note. We are always happy to help out our friends!
---