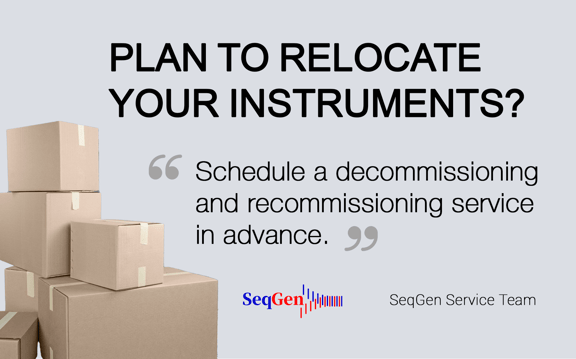 Instrument relocation is an unavoidable part of a lab relocation, transition or lab rearrangement. Regardless of moving distance, a successful relocation involves a two-part process of decommissioning and recommissioning to ensure that the instrument is up and running smoothly at the new location with minimum delays.
Instrument relocation is not just about moving and plugging the instrument in again. Trained service engineers should be there every step of the way to ensure a smooth transition. Here's a brief overview of what happens during the decommissioning and recommissioning process.
Decommissioning
Decommissioning is all about removing an instrument from active status in order to be relocated to a new place. Below are the main tasks our service engineers will perform for instrument decommissioning.
Preparing/uninstalling the instrument to be ready for packing/storing.
Properly

disconnecting the computer and power source.

Securing and protecting all moving parts on the instrument.

Removing all reagents/liquids from the instrument.

Configuring the software to proper mode for moving.
Please note that we don't do physical lifting and moving but we can be involved in supervising how it should be moved by your lab movers to minimize chances of the instrument getting damaged in transit.
Recommissioning
Recommissioning is about putting an instrument back into active status at the new location. Our service engineers will perform the following main tasks for instrument recommissioning.
Installing the instrument in the new location and verifying performance.

Ensuring all connections to the instrument are proper and secured.

Setting up network environment in the new location (with an IT person onsite).

Configuring the instrument software.

Performing Preventative Maintenance (PM) procedure and verifying all alignments.

Performing proper calibration for the instrument.
At a glance, feel free to download this infographic for your reference.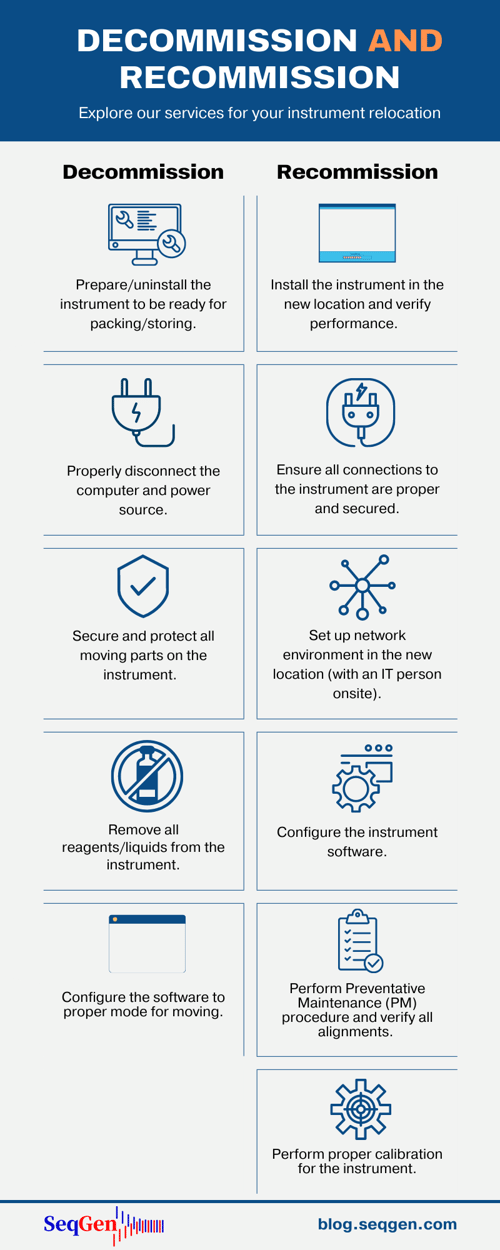 At SeqGen, we often recommend our customers reach out to us in advance to plan ahead for the move. Scheduling in advance helps us to know when you need your instruments to be relocated, confirm reagents, and bring the necessary spectral calibration plates and other calibration tools. Other minor but no less important items could include preparing an entrance pass for our engineers on your site, parking permits, and the contact info of the person in charge at your lab, etc., depending on your site protocols.
Our dispatch and sales teams will communicate with you throughout the relocation process so you have the peace of mind that your instrument will be up and running in the new location in the shortest amount of time.
Now that you have an overview about what services you should do when relocating an instrument, contact the team at SeqGen for your relocation needs!