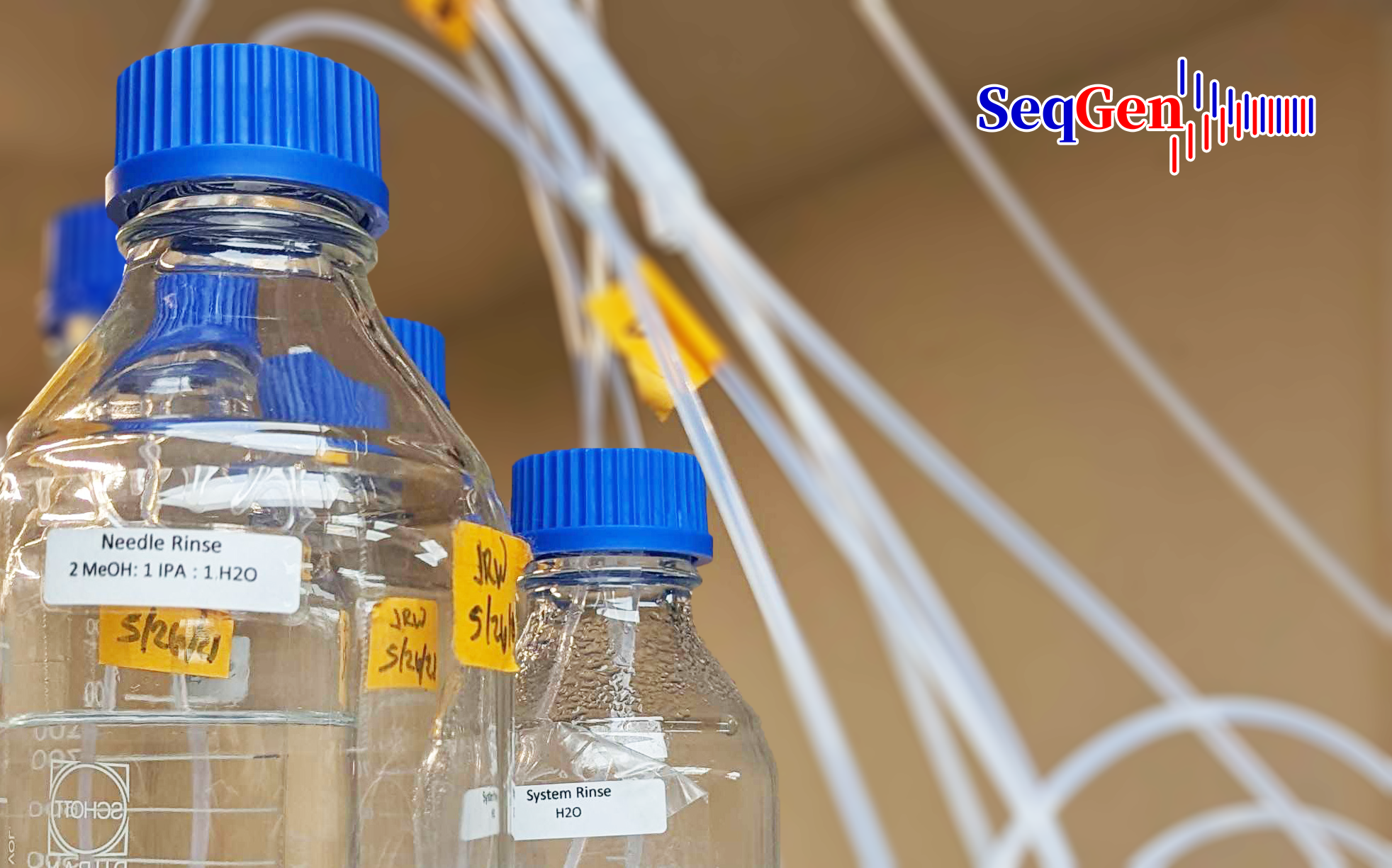 When it comes to liquid chromatography, the mobile phase plays a critical role in carrying the sample through the chromatography column and into the mass spectrometer.
It is important to select appropriate mobile phases that are compatible with MS. On top of that, optimizing the mobile phase composition, pH, and flow rate is crucial to ensure a successful separation in LC.
When troubleshooting LC issues, the mobile phase is often the first parameter to be examined, as any changes to its composition can have a significant impact on the separation performance.
To minimize LC issues that might occur in mobile phases, performing routine maintenance in regard to relevant organic solvents is key. Follow these tips to keep mobile phases in good shape in your LCMS systems.
Use HPLC grade, MS grade, or comparable solvents to ensure accurate and reproducible results in HPLC analysis.

Prior to using, degas the mobile phase to prevent the formation of air bubbles or dissolved air that may arise when solvents are mixed, solution temperature increases or gas pressure decreases. Air bubbles can cause solvent delivery malfunctions, channeling, and baseline noise. Dissolve air can have harmful impacts on detection.

Prepare and replace fresh mobile phases on a regular basis to avoid components in the mobile phase being degraded or evaporated which can lead to changes in separation and detection.

Regularly check for contamination in mobile phases by analyzing a blank sample. Any peaks observed in the blank sample chromatogram may indicate the presence of contamination in the mobile phase. Try to identify the contaminant by comparing the retention time and pass spectrum of the peak with the known contaminants in your lab. Once you have identified the contaminant, eliminate it from your mobile phase.

Flush the chromatography system before and after each use with a fresh mobile phase to ensure that any residue sample or contaminants are removed from the system.

Wear clean and dry nitrile gloves while handling instrument components, filling solvent bottles and preparing samples to avoid transferring biomolecules and other contaminants to the system.

Use clean and clear dedicated borosilicate glass solvent bottles for the system. Rinse them with recommended solvent from the manufacturer. Consider replacing the badly contaminated (from microbial growth or other sources) bottle with a new one if applicable.
Mobile phase maintenance in the LCMS system requires detailed care, but once you get a hang of it, you can have peace of mind for a smooth operation later on without going through possible mobile phase-related issues.
Need a preventative maintenance service for your LCMS systems? Don't hesitate to reach out to our service team for the best care out there.