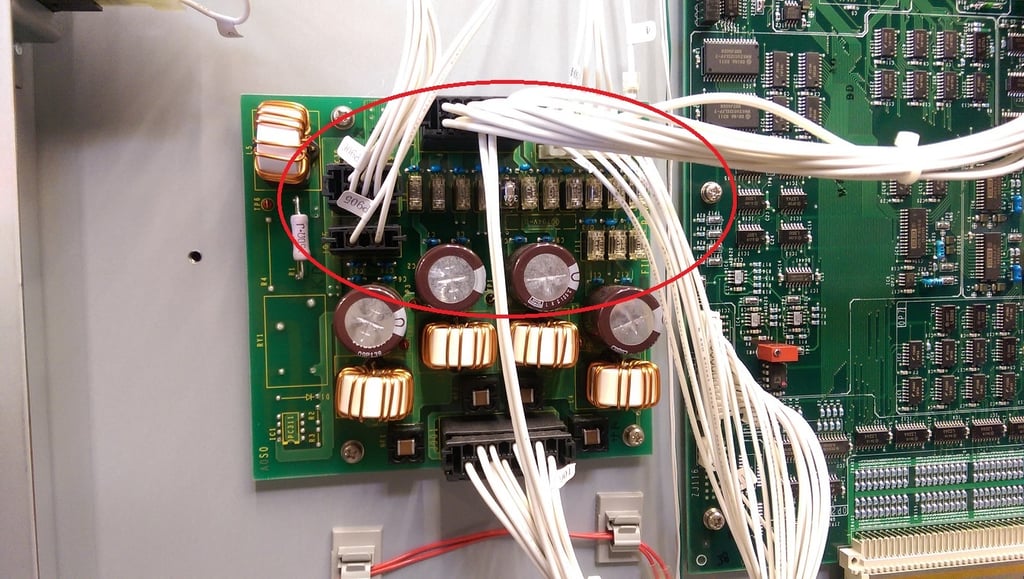 The dog days of summer are here, and I don't know about you but at times they can have me feeling burnt out! And just like us, our CE machines can burn out from time to time, too. If you're seeing that annoying yellow light during initialization, it may be time to check your fuses on your ABI 3730 to see if they need to be replaced.
If you've already run a connection check on your analyzer to no avail, there's a good chance that one of your fuses may have burned out. Most machines have four fuses that power the entire system, and some additional fuses that run to the PCA board. All of these fuses must be intact for your machine to operate correctly.
To check if your fuses are working properly, you're going to have to find them first. Here's a picture showing where the four (4) system power fuses are located.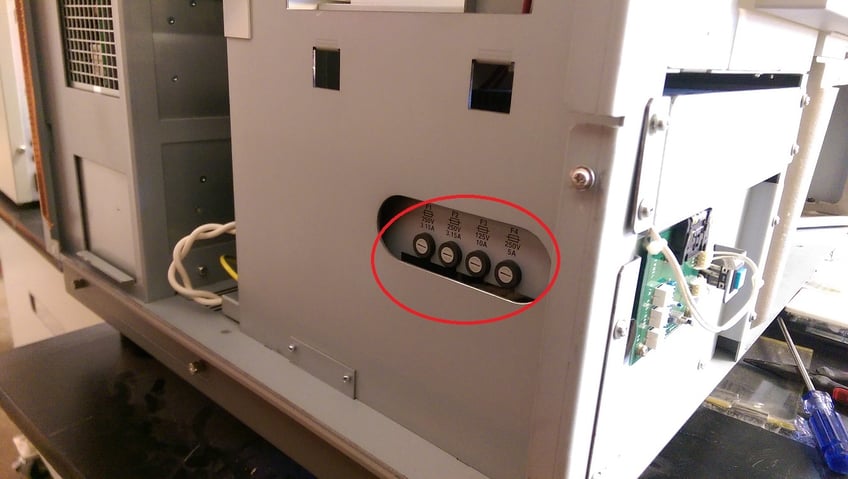 You should be able to tell if a fuse has burned out by looking at it, but if you aren't sure you can always use a multimeter to test them individually. If you do find out that one or more of your fuses has burned out, you'll have to replace the deficient fuse. This is good news considering that that these fuses only cost between $5 and $20.
Make sure to pay attention to the particular fuse you are replacing. Each fuse has different specifications, and you'll need to make sure you get the correct replacement. You can find the specifications printed on each fuse in the form of 1A, 2A, 3.2A, etc.
From time to time, we come across a machine that seems to burn through a lot of fuses. If you notice that fuses tend to burn out right after you turn your 3730 on, that means there is an issue with some component inside the machine. In this case, you'll need to schedule a service call so we can take a closer look at the issue.
If you inspect your machine only to find that all of your fuses are working properly, that is a signal of a bigger problem with your analyzer. Unfortunately, you'll need to contact us for further troubleshooting or to schedule a service visit.
Hopefully you only have to replace a fuse and then you'll be back to sequencing. If not, give us a call. We are always here to help!
Looking to extend the life of your ABI 3730's capillary array? Download our free Array Wash Procedure. This is your guide to returning your array to pristine condition and extending it's life for many samples to come.


---