---
When it comes to your capillary sequencers, we always assume "Green is for go" signaling that everything is up and running smoothly. You may be looking for the "green light" on your sequencer to ensure you've passed the initialization sequence, but it's just not happening, even after rebooting. Let's go through just exactly what you should see.
First and foremost, when checking sequencer functionality, be certain the computer and sequencer are plugged in. Sounds like it doesn't need to be said, but we've seen this issue before. Also, if the machine has been in "idle" mode for a long period of time, it may have tripped the safety breaker and turned the machine off. These are two items to check for immediately.
---
Next you'll want to turn on the computer and log in to Windows XP, (for Win7 users turn on the Telnet function in the Control Panel) followed by turning on the sequencer. The light indicator on the sequencer front panel should show "solid yellow" first and then "blinking yellow" to indicate that your computer is communicating with your machine.
When you see the machine "blinking yellow" when starting up, Click "start-Run"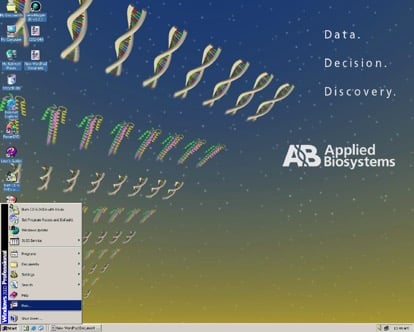 You will then be prompted to type the name of your program. Type in: Telnet 192.168.0.2 7001 and click "ok".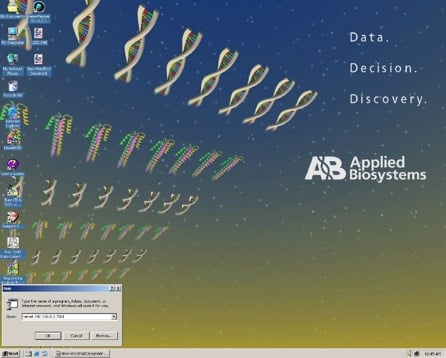 You will see this window pop out showing you the details of the machine initializing.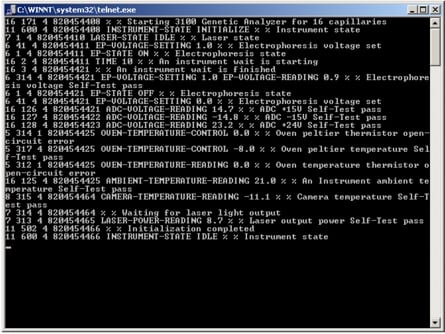 Eventually the sequencer should go to a solid green light showing that the initialization sequence is complete. During initialization you should hear a clicking sound from the right side of the sequencer, followed by the pump, then autosampler initializing.
If you are still unsure of your sequencer's functionality, and the machine has not achieved green light status, take a screenshot of the cmd window and email it to SeqGen for review. We'll be able to let you know what's going on based on the info in this window. However, if there is a problem with the CCD camera, we'll need to have a working capillary filled with polymer so that we can check the image.
As always we are here to help, so feel free to contact us with any questions or concerns that you still have about your machine!
---