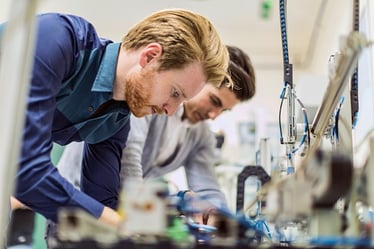 Over the past few years we've been bringing you the most common issues and best trouble shooting tips through our blog. There have been all kinds of odd errors for us to work on this year, but we kept seeing these particular problems occur over and over.
Since we love working with our partners in the lab, we wanted to dive into our blogs and bring you the most helpful tips and tricks we could find. So without further ado, here are the 5 most helpful hints we've given out so far.
One of our end users found that when using water for injection vs Hi-Di formamide, he ended up with issues that didn't allow for base calling. Well, we dug a little deeper into his issue and came up with some ground rules to follow when you need to suspend your samples. Check out the full blog to see what we found and our recommendations.
This is probably the most common question we get about all of our machines. You probably already know that if you don't change your polymer out on a regular basis, you're risking poor data quality and errors with the electrophoresis current. But how often do you really have to change out your polymer? We break it down for you in one of our most popular posts of all time.
Over time, dried and degraded polymer can build up along the inner walls of your capillary array, causing less than optimal results in data quality. It's fairly easy to tell when your array is in need of a proper cleaning, and our guide will walk you through it. Give it a read, and get your data back on track.
One problem that seems to pop up from time to time is a false "Capillary Leak Detected" error. Most people see this error and immediately think of anything and everything they can try to avoid ordering a new array. We'll walk you through the correct way to check your machine for a capillary leak, and hopefully keep your current capillary array.
If you're still running Windows XP on your instruments, chances are you've gotten notice from your manufacturer saying that you need to upgrade to Windows 7 to ensure the best security and efficiency for your machines. But of course it comes with a hefty price tag. Do you really need to go ahead and upgrade your software? We break down your options in this post.
It's been a year full of challenging service issues - and we couldn't be more excited to keep them coming in 2017! We're always up for the next task, and as always, if you have a service question or concern feel free to reach out to us. We love hearing from our partners at the lab!