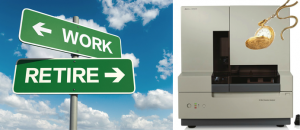 This week marks a new phase in SeqGen's history. It is with great sadness that we say goodbye and send off our first company retiree. After many dedicated years of service, Sharon in our Accounting/Customer Service Department will be saying goodbye to the workforce and hello to full time retirement. If you have had previous communications with Sharon, you may want to wish her well in her new vocation- retiree!
While it may seem counterintuitive to our previous blog posts, there does actually come a time in the career of your laboratory equipment, when it is time to retire them. While we firmly believe that you should keep all your Sanger and qPCR machines in tip top running condition as long as possible (and we are here to assist to that end), disuse or declining usage, may indicate it is time to consider additional options. Many of our Sanger customers, especially university core laboratories, are noticing a declining need for Sanger sequencing. Additionally, some facilities are closing altogether and need to liquidate the entire lab. If this is the case, let us know. We would be glad to take your machines in on trade for service contracts or just buy them outright. Whatever the reason, let us know and we can explore your options.
We do love hearing from you. Give us a shout if we can assist with any of your service, troubleshooting, or technical questions.
SegGen will be exhibiting at the ISHI Conference during the week of October 12th. Stop by our booth in Dallas and register to win a Camera Drone!