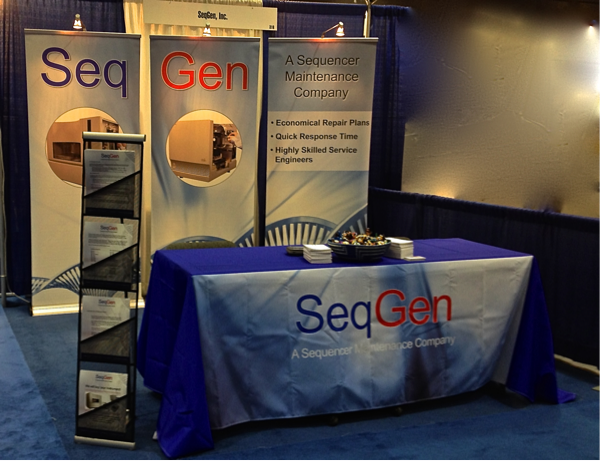 Last week was such an exciting week in Dallas at Promega's 26th International Symposium on Human Identification. Exhibitors and participants alike were treated to a week packed full of exciting presentations and announcements. Promega is the ultimate host!

If I tried to summarize SeqGen's experience at the conference, I could sum it up in one amazing sentence, repeatedly expressed by visitors to our booth. To paraphrase, it went something like this: "Oh, you are that company who will continue the service on our 3130xl analyzer when Life Tech will not". Of course, our answer was an overwhelming "YES!", but I would also like to expand upon that just a little bit. We are also "that" company who:
Will service your 7900HT qPCR and 9700 thermal cycler when Life Tech will not.
Still services your 3100 Genetic Analyzer even though Life Tech discontinued service several years ago.
Will service your 3500 Genetic Analyzer even though it is relatively new to the market place.
Has some of the most highly skilled service engineers in the industry who all hold a Masters Degree in biology or engineering.
Will answer any question you may have concerning the servicing of your machine whether you are hiring us to do so or not.
Will never withhold information concerning your machine's service. If you have questions – we have answers.
Strives to treats every customer like "part of the family" and is staffed with a caring group of professionals dedicated to the success of every one of our customers.
In the age of corporate mergers and acquisitions, we are "that" company who goes the extra mile (literally for our engineers!) to offer our trademark personal touch. We are "that" company who considers every customer, small or large, vital to the success of our business.

A heart felt "THANK YOU" goes out to all of you who stopped by our booth to share your amazing feedback about our services. If you are not currently "one of the family" give us a shout. We would love to talk to you or help you in any way that we can.

In the coming weeks we will be launching a blog series focused on our amazing customers. We will still be sending out those useful tips, but interspersed with those blogs, will be your stories. If you would like to "see your name in lights" we would love to showcase your experience with SeqGen! Give us a shout.
Sincerely,