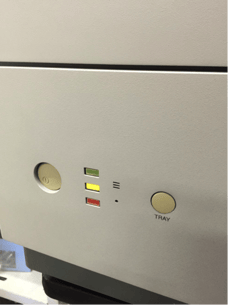 It's that time of year again. The grey clouds are parting and the sun is poking its head out at long last. Spring break is here, and for a lot of people, that means turning your sequencer off for a while.
But what happens when you return to your lab with a nice tan, ready to work, and your sequencer wants a little more time off? Instead of starting up normally, your machine won't connect to the computer, and all you see is that flashing yellow light.
We usually see this error in couple different instances.
---
1). The sequencer has been turned off for a while, such as spring break, vacation, or when you are moving your machine.
or
2). The machine gives an error message during a run and you have to reboot the machine.
Instead of the machine showing a green light, it will either flash or remain yellow. When this happens, reboot both your sequencer and computer.
If that fails, our step-by-step 3730_3130 Connection Check will walk you through properly connecting your sequencer and computer. Complete with screenshots, this user-friendly guide will get your equipment playing together nicely in no time.
---
Download it here, follow the instructions, and you should be good to go. Not all problems are this easy to solve, but we are here to lend a hand. If you're having a specific issue, let us know and we'll do our best to get back to you with a solution.